Total Knee Aquatic Therapy Progression for Low to High Level Patients
Presented by: Olmer Cruz, PTA, Peak Performance Physical Therapy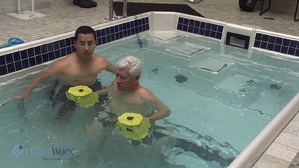 In this webinar, Olmer Cruz, aquatic therapist at Peak Performance Physical Therapy, will share what he has learned in his 12 years of experience about the value of aquatic therapy programs for a wide range of knee patients.
Olmer will discuss the reasons that high performance sports patients are now entrusted to his aquatic therapy program when once only low level patients were referred to aquatic therapy. He will address the importance of form through proper body mechanics to allow therapists to know when to progress a patient.
Olmer will illustrate the importance of being specific to the needs of each patient whether it's a patient returning to normal activities of daily living or to a sport. He will show how he would take a patient through their knee program and demonstrate how aquatic exercises can be made easier or harder for all ranges of knee patients.

attendees will learn:
The benefits of aquatic therapy for low to high level total knee patients

The importance of form through proper body mechanics to guide progression

How to address the specific needs of each patient

What Past Webinar Attendees are Saying:
"Please continue with the webinars. They are very informative!"
"I think this was an excellent webinar!"
"You guys did a very nice job! Thank you for the webinar!"
SPEAKER BIOS:
Olmer Cruz, PTA, is an aquatic therapist at Peak Performance Physical Therapy, an HSS rehabilitation network member in Lynbrook, NY. Olmer received his PTA degree from Nassau Community College, began working with Peak Performance while in school and has worked there for over 12 years. At Peak Performance, Olmer has had the opportunity to provide aquatic treatment to professional athletes on teams such as the New York Cosmos, Long Island Lizards, Real Madrid and other international soccer clubs from Spain, Venezuela and Brazil. Olmer specializes and/or has earned certifications in areas such as aquatic therapy, balance, Graston technique, KT-Tape, ACL injury prevention, total joint and sports specific rehab.