Aquatic Training Programs for Healthy Athletes
Presented By: Murphy Grant, MS, LAT, PES, Assistant Athletic Director - Sports Medicine and Head Football Athletic Trainer at University of Kansas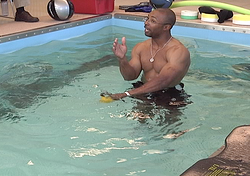 As sports medicine and strength training professionals look for safe and challenging ways to improve on both rehabilitation of injuries and athletic performance, aquatic environments are moving to the forefront. Hydrotherapy is becoming a widely used tool to enhance athletes' performance, whether recovering from injury or healthy. The potential of aquatic-based training is unlimited due to the unique properties of the water environment.

In this webinar, Murphy Grant will discuss what makes water an ideal environment to train athletes, including key benefits such as avoiding overtraining, injury prevention, and workout diversity. He will describe a typical aquatic-based training program and will provide examples of several aquatic exercises that are ideal for the functional training of healthy athletes. These specific exercises will be demonstrated with photos and short videos. Murphy's presentation will be followed by a 15-20 minute Q&A session which will allow the audience to ask the presenter questions relative to the material and his experience with aquatics.
As a result of attending this webinar, attendees will learn:
Key benefits of aquatic therapy for training athletes.

Specific aquatic exercises for functional training.

Practical ideas for implementing aquatic-based training as part of an overall program.
What Past Webinar Attendees are Saying:
"Good seminar over all. This would be a great resource for AT educational programs."
"Great job and very informative!"

"Please continue with the webinars. They are very informative!"
"I think this was an excellent webinar!"
"You guys did a very nice job! Thank you for the webinar!"
SPEAKER BIO:
Murphy Grant, who has been a Division I athletic trainer for ten years, is entering into his eighth year as head football athletic trainer and his sixth as Director of Sports Medicine at the University of Kansas. Grant came to KU after five years as the athletic trainer for the men's basketball program at Oklahoma State. He also served as the Cowboys' strength and conditioning coach for two seasons.

Grant attended Quincy (IL) University, where he was a member of the football team from 1992-96. He graduated with a degree in athletic training in 1997. Murphy then went to Illinois State, where he served as a graduate assistant in the athletic training department while receiving his master's degree in exercise science in 1999. The following summer, he spent one season working with the Boston Red Sox rookie league team. Prior to arriving at OSU, Murphy served two years as head athletic trainer at Missouri Valley College.

In his career, Murphy has been involved in exciting postseason success. While at OSU the Cowboys basketball team advanced to the Final Four, as well as a Sweet 16 appearance. He has been a part of back-to-back bowl games with Kansas football.

In addition to his athletic training work at OSU and Kansas, Grant has also worked with the television show The Biggest Loser, designing workout programs for its contestants, specifically regimens affiliated with HydroWorx. Additionally, Grant has spent time working with the Chelsea Football Club of the English Premiere League and also Major League Baseball's Washington Nationals. With his vast knowledge of aquatic therapy, he has been a lecturer at several aquatic based seminars.