Upper Body Rehabilitation in an Aquatic Environment
Sponsored by HydroWorx
Presented By: Barry Lippman, MS, ATC, CSCS, Associate Athletic Trainer/Rehabilitation Coordinator at Coastal Carolina University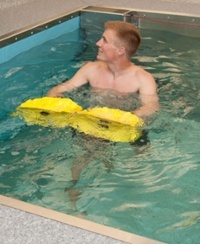 In this webinar, Barry Lippman, Associate Athletic Trainer/Rehabilitation Coordinator at Coastal Carolina University, will provide specific strategies, principles and general treatment design in developing advanced upper body recovery and rehabilitative programs emphasizing the use of water as a medium to implement them. The strategies are developed to safely, efficiently and effectively bridge the challenging gap between rehabilitation and performance.
The use of hydrotherapy exercise can stimulate the body's response to regeneration and increase speed of recovery from fatigue. Proper aquatic training can also allow an athlete to gain and maintain upper body strength while minimizing residual soreness. This webinar will outline a systematic approach to effective upper body training in an aquatic environment.
Learning Objectives:
Employ a progression and regression for late term upper body aquatic rehabilitation

Utilize water as a medium for low impact upper body performance and strength gains

Apply effective scapular stabilization techniques to prepare athletes for overhead throwing

Continuing Education: This course is intended for athletic trainers. 1 CEU is available through the BOC for athletic trainers who watch the live webinar in its entirety.

What Past Webinar Attendees are Saying:
"Please continue with the webinars. They are very informative!"
"I think this was an excellent webinar!"
"You guys did a very nice job! Thank you for the webinar!"
SPEAKER BIO:
Barry Lippman is in his 11th year at Coastal Carolina University, with primary responsibility for Coastal Carolina's baseball program, which won the 2016 NCAA College World Series. He served on the Chanticleer staff as assistant athletic trainer for his first four years before being promoted to his current post of associate athletic trainer. In the fall of 2011, Lippman added another duty to his resume by being named rehab coordinator for all Chanticleer student-athletes.
A member of the National Athletic Trainers' Association, Lippman joined the Coastal Carolina staff in August 2006 from UNC Wilmington, where he was the head men's athletic trainer and directly handled the baseball and women's soccer teams. Prior to his tenure at UNCW, Lippman worked with the National Football League's Detroit Lions from June 2004 through January 2005, assisting with the daily medical coverage of NFL football players.
Lippman spent two years at Georgia Tech, earning his master's degree in sports medicine in 2004. While there, he was also a graduate assistant athletic trainer, working with the football, baseball and men's and women's tennis teams. He worked with programs that went to the 2002 Silicon Valley Classic Bowl, 2003 Humanitarian Bowl and 2004 NCAA Baseball Super Regional.
Lippman earned a bachelor's degree in exercise science from Florida State University in 2001. As a student assistant trainer, he worked with the nationally-ranked football and baseball programs at FSU and eventually was a head student athletic trainer during his tenure.