Using Aquatics for Warrior Rehabilitation
Presented By: Cory Keirn, DPT, OCS, CSCS, ATRIC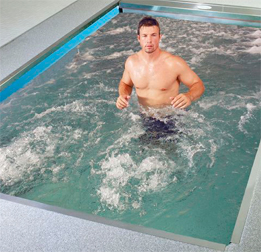 In this webinar, presenter Cory Keirn, DPT, OCS, CSCS, head physical therapist for aquatics at the James A. Haley Veterans' Hospital in Tampa, FL, will discuss the various ways that he uses aquatic therapy to treat the military veterans in his care. Cory will first share an overview of the physical therapy department of the James A. Haley VA and its 14 separate clinics before moving on to the specific ways that he has utilized aquatic therapy.

The presenter will review the protocols he's used for post-surgical rehabilitation after total knee and hip arthroplasties in a subacute inpatient rehabilitation setting. Cory will illustrate gait training exercises used for patients following cerebrovascular accidents and traumatic brain injuries. He will describe strategies used to treat active duty soldiers with multiple orthopedic and blast injuries, TBIs and concussions. Cory will share the successes and challenges he's experienced with utilizing gait training for amputees.

The presentation will also include two case studies of military veterans that made remarkable progress with aquatic therapy after being wounded in action.
As a result of attending this webinar, attendees will learn:
Protocols used for post-surgical rehab after total knee and hip procedures

Gait training exercises for post-cerebrovascular accidents and TBI

Successes and challenges of using aquatic therapy for gait training of amputees
What Past Webinar Attendees are Saying:
"Good seminar over all. This would be a great resource for AT educational programs."
"Great job and very informative!"

"Please continue with the webinars. They are very informative!"
"I think this was an excellent webinar!"
"You guys did a very nice job! Thank you for the webinar!"
SPEAKER BIOS:
Cory Keirn has been treating veterans at the James A. Haley Veterans' Hospital as the head physical therapist for aquatics since 2012. He is a Tampa native and received his B.S. in Physiology and Kinesiology from the University of Florida. After earning his degree, Cory worked for the WWE as a strength coach for professional wrestlers. In 2008, he became an assistant strength and conditioning coach for the Philadelphia Phillies organization and worked with the team through spring training. Cory then matriculated to the University of Central Florida to receive his doctorate in physical therapy. After graduating from UCF, he became the first orthopedic clinical specialist resident in the VA system, treating a wide range of orthopedic impairments. Since 2015, Cory has been developing an aquatic gait retraining program in the James A. Haley VA's newly opened aquatic center.