Water Chemistry 101
September 22, 2021 from 2:00-3:00PM EDT
Presented by: Rachel McDermott, Clinical Education Specialist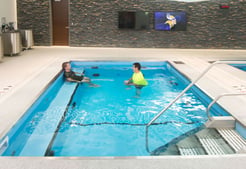 To ensure the health and safety of your participants as well as the longevity of your aquatic unit, properly balancing your water chemistry is of utmost importance. This webinar has been created to help review how to properly test your water, increase your understanding of water chemistry and to assist in troubleshooting imbalances when they occur. Our highly trained Service Team will be available to field questions from participants to assist in answering your pool questions.
This webinar will help you:
Understand the pool components to properly balance your pool
How to properly test your water chemistry
Review pool scales to assist in balancing customers' products
Helpful tips to understanding and maintaining your pool
Speaker BIo:
Rachel McDermott, PTA, is the Clinical Education Manager for HydroWorx. She develops educational content, resources, CEUs and manages internal and external training for staff and customers. Rachel is the former Director of Rehabilitation at Stonehill Care Center where she created and ran a successful Aquatic Rehab and Wellness Pool program implementing HydroWorx water solutions.