The Use of Water Immersion for Recovery
Sponsored by HydroWorx

Presented By: Nick Held, M.Hk, CSCS, Research and Development Manager at Hydrathletics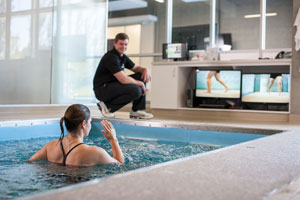 In this webinar, Nick Held, Research and Development Manager at Hydrathletics, will focus on the use of water immersion to enhance recovery after exercise. Water immersion for recovery purposes has become common practice in both sports and healthcare rehabilitation settings. There are multiple types of water immersion that are commonly practiced with the most popular being cold-water immersion, hot-water immersion and contrast water immersion. Although the use of water immersion is common practice, there are unclear results in the scientific literature regarding the effectiveness of the modality. This webinar aims to present some of the findings in the literature and discuss methodological considerations in order to make decisions about how to effectively use water immersion to aid in recovery. Important considerations will be given to the following learning objectives.
Learning Objectives:
Identify the properties of water immersion that influence recovery.

Utilize assessment tools to measure recovery.

Apply methodological (i.e. type, time, temperature) considerations to enhance recovery.


Continuing Education: This course is intended for athletic trainers. 1 CEU is available through the BOC for athletic trainers who watch the live webinar in its entirety.

What Past Webinar Attendees are Saying:
"Please continue with the webinars. They are very informative!"
"I think this was an excellent webinar!"
"You guys did a very nice job! Thank you for the webinar!"
SPEAKER BIO:
Nick Held is the Research and Development Manager at Hydrathletics. Nick previously held the positions of Director of Hydrotherapy at Fortius Sport & Health, Sport Scientist with Field Hockey Canada, Strength and Conditioning Coach at Hydrathletics and Behavioral Coach with Wellspring UK. He exemplifies his passion for education and continuing development as he is currently completing his PhD in Experimental Medicine at University of British Columbia. His research interests include the use of water immersion in performance, rehabilitation and recovery as well as long term athlete development. Nick has years of experience using hydrotherapy to help individuals optimize performance and rehabilitation and reach their full potential. In addition, he has presented at multiple conferences in North America and was nominated for the HydroWorx Excellence in Aquatics award.