Therapeutic Versatility and Value of Aquatic Therapy
Presented By: Daniel Seidler, PT, MS, Executive Director of WSPT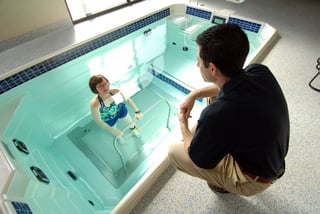 Aquatic therapy is one of the most versatile, functional and effective rehab modalities in the toolbox of a physical therapist. Physical Therapists are all presented with challenging patients daily. The option of an aquatic environment greatly expands the arsenal of a therapist to help their patients. Daniel Seidler, PT, MS, Executive Director of WSPT in the Bronx, NY, will demonstrate the versatility of aquatic therapy and the pool in which he practices it.
In this webinar, Daniel will give examples of several patients who have benefitted from aquatic physical therapy at his clinic. He will utilize case studies, photos and videos to demonstrate the versatility of his program and various conditions he treats with it at WSPT.
Some of the conditions he will discuss are:
Total knee arthroplasty

Fibromyalgia

Dystonia

ACL reconstruction

Multiple Sclerosis
From this webinar, attendees will learn:
The versatility of aquatic therapy and the HydroWorx pool

Some of the conditions that benefit most from aquatic therapy

Innovative aquatic therapy treatments

The benefits of aquatic therapy for marketing a physical therapy practice.
What Past Webinar Attendees are Saying:
"Good seminar over all. This would be a great resource for AT educational programs."
"Please continue with the webinars. They are very informative!"
"You guys did a very nice job! Thank you for the webinar!"
SPEAKER BIO:
Daniel Seidler is the owner and Executive Director of WSPT in the Bronx, NY. He graduated from the Columbia University College of Physicians and Surgeons with a Masters in Physical Therapy in 1996. His areas of expertise are aquatic therapy and orthopedic manual physical therapy based on the Maitland technique of assessment and treatment. Daniel contributed a chapter on Fibromyalgia and Chronic Pain to "The Use of Aquatics in Orthopedic and Sports Medicine Rehabilitation and Physical Conditioning" by Kevin E. Wilk and David M. Joyner.
Daniel is a member of the APTA, a USA Triathlon Certified Coach, a CrossFit Level I Coach, a Research Member of the Arthritis Foundation and an elected member of the Advisory Board of the HSS Rehab Network.
When Daniel is not treating patients or working with the WSPT Team, you might see him running, swimming, skiing, CrossFitting, doing yoga, coaching soccer or just playing ball with his wife and kids.