The 2016 Healthcare Excellence in Aquatics Award
RECOGNIZING THOSE WHO ACHIEVE EXCEPTIONAL REHABILITATION RESULTS THROUGH THE USE OF ADVANCED WATER THERAPY.
Congratulations to this year's winner, Lexington Regional Health Center for the Innovative Co-Treatment for a Patient with Rett's Syndrome


Determination. Innovation. Excellence.
Who doesn't love a truly inspiring story? It is our nature to be drawn to stories of individuals overcoming the odds, breaking through barriers and truly redefining what is possible. We have all been impacted, in one way or another, after hearing these remarkable stories. Behind these truly amazing rehabilitation stories are the clinicians and medical staff who also sacrificed to ensure these individuals would reach their goals.
The 2016 Healthcare Excellence in Aquatics Award will recognize clinicians who, despite all odds, garnered superior rehabilitation results through innovative and sometimes unconventional methods. Eligible pioneers rely on aquatics as a medium to help achieve exceptional results.
Read the nominees below and vote today! You can vote one time per day until February 1, 2016 at 11:59pm EST to support your top pick. The winner of the 2016 Healthcare Excellence in Aquatics Award will be announced online on Friday February 5, 2016. Spread the word on twitter and Facebook with #ExcellenceInAquatics.
AND THE NOMINEES (in alphabetical order) ARE…..
IU Health La Porte Hospital for the Life-Altering Rehabilitation of a 67-year-old Patient
T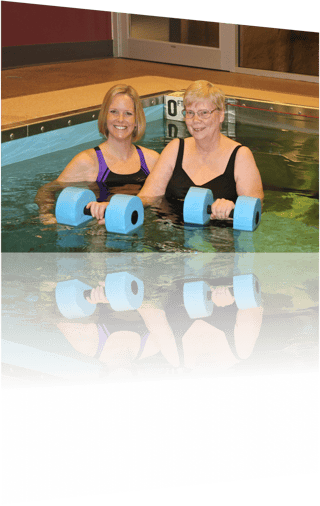 his patient is a 67-year-old female who had suffered from severe hip pain for years and needed a bilateral hip replacement. Three weeks following her first hip replacement surgery, she suffered a massive heart attack and had 5 stents placed. After the significant recovery period following this procedure, she was eventually ready to begin land and aquatic therapy.
On land she received traditional post-op total hip protocol consisting of range of motion, strengthening and gait/balance activities. In the water, she began with very basic lower extremity exercises to gain range of motion, strength and endurance. Fortunately, she did not have any hip pain while in the water, so her greatest limiting factor was her cardiac history.
As her cardiovascular endurance improved, the treadmill was added to her exercise program. Following her discharge from skilled therapy, she continues to exercise in their HydroWorx pool 3 times per week to continue to progress towards her goals. During her initial evaluation, this patient reported a 9 out of 10 for pain in her left hip. At discharge, she reported a 3 out of 10 during activity and 0 out of 10 at rest. This patient progressed just as expected physically; she got stronger while her endurance and balance improved.
When she first arrived at therapy, she was in a deep depression. Originally, this patient was scheduled to have the 2nd hip replaced 6 weeks following the first. But due to her cardiac condition, she had to wait for at least one year. Additionally, she was in a great deal of pain because she was unable to take the pain medication needed to manage her post op pain and other symptoms. She felt that her future was uncertain and became very worried. However, the patient shared that the pool really helped her to realize that she was not going to die tomorrow. She could see that she could gain strength and function and return to her normal life without pain.
"I have the pleasure of working in a profession that makes a positive impact on peoples' lives every day. However, there are those rare occasions when I truly feel that I have changed someone's life. This therapy, this pool, my guidance may have actually saved her life. I feel very fortunate to have been able to go through this experience with her."
- Erica McMahan, PTA, ATRIC, CPO, KTP, Physical Therapist Assistant
---